I'm thrilled to announce two new stories!
COMING SOON! "Treat or Hex?"–a "Sexy Snax" from the Totally Entwined Group.
Theatre majors at Yale Drama School, Gabrielle LaCroix and her best friend, Paul Wilkins, play an ongoing game of 'improv chicken.' The object is to rattle the other so much they break out of character.
Their friend Natalie invites the pair to NYC for a sexy Halloween party. Since the two are actors, once in costume, they're different people. Not Gabrielle and Paul—but the rakish 'Mississippi Gambler' Colonel Bartholomew W. Davis and the sexy 'Bourbon Street Madam' Lady Tiffany.
What's the story with The Colonel's seductive ways? Is this another round of chicken? Or is Paul actually trying to get Gabrielle into bed? And why does she suddenly find him irresistible? It doesn't matter! He's your friend! You can't!
Add a Catwoman on the prowl and three naughty witches. Stir the cauldron and cast a spell. 'Double, double, call me honey, lick my c___, and f___ my c____!'
Could it all be a trick that leads to a romantic treat?
*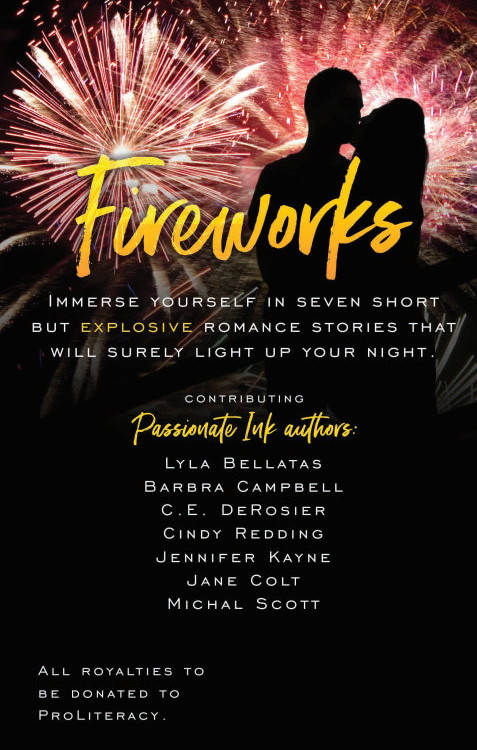 "Love and Two Fourths" is part of an anthology of seven stories contributed by members of Passionate Ink, the erotic romance chapter of the Romance Writers of America. All proceeds will be donated to ProLiteracy. It's available now on Amazon electronically and in paperback.
Love at first sight on one Fourth of July turns into heartbreak on the next. If Anne is open to other–very different!–possibilities, maybe there's a silver lining.