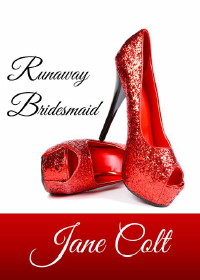 Runaway Bridesmaid is a contemporary 'I can't believe I turned into such a slutbunny' erotic romance. Upbeat and fun, the story begins in Las Vegas. Five years later, it moves to the Santa Monica mountains, Los Angeles and Boston. It concludes in London.
Novel: 60,000 words.
 * * *
Champagne, hot best man, and a sex tape? OH NO!
Normally shy and reserved Emily enjoys a night of wild sex with the drop dead gorgeous best man at her best friend's wedding in Sin City. Mortified that Kirk's 'special' champagne transformed her into such a 'slutbunny,' she sneaks out of her lover's bed in the middle of the night and races to the airport.
Kirk is heartbroken. He's fallen in love, and he's certain that—deep inside—Emily feels the same for him.
A few years later, Fate gives the couple a second chance when their jobs bring them together. Still embarrassed over their night of debauchery, Emily pretends they've never met. Kirk plays along, hoping to win her over. She sees what a good guy he really is and starts to melt. But then she discovers he's brought along a bottle of the champagne that was her undoing and some pictures from the sex tape they'd made—which he'd promised to destroy! She concludes that 'nice guy' Kirk is just an act to give him another shot at 'DTF Emily.' Furious, she bolts again. And as if being betrayed by Kirk weren't bad enough, someone sabotages the project.
Learning that Emily's career is about to crash and burn, Kirk is desperate to help. But can he do enough to save her job? And even if he can, will she let him explain why he broke his promise and give him a chance to win her back?