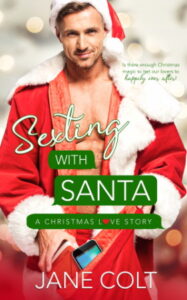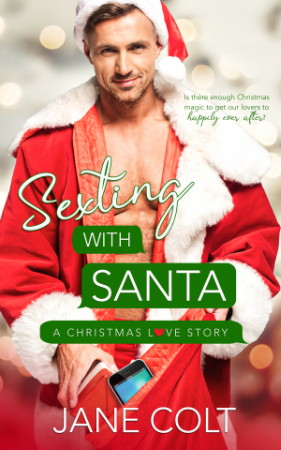 Available at firstforromance.com  
Amazon and Barnes and Noble. Click here for an excerpt.
An overheard secret Christmas fantasy by the wrong–or is it the right–guy? An ex-husband who swears he's changed. What's a girl to do?
Suffering from post-divorce doldrums, third grade teacher Sasha West is dragged to San Francisco by her BFF for a girls' weekend to boost her spirits. Literally pushed into a sex toy shop where "naughty girls" tell a hot Santa their sexy Christmas Wish, she describes in tantalizing detail her fantasy featuring the school's Adonis-like Phys Ed teacher, former pro quarterback Rick Hanschiffern. Sasha doesn't realize, however, that she's sitting on the lap of the star of her lusty dreams! Rick has been secretly in love with Sasha since he first met her and hopes he now has a chance. The challenge. How to get her to see him as more than a jock, while fueling her fantasies—but make sure she doesn't find out he was Santa? But wait! Sasha's ex-husband shows up and swears he's a changed man. Is it a Christmas miracle or too good to be true? Which pair of lovers will Christmas magic get to 'happily ever after'?
Novel: 62,500 words

A "Sexy Snax" from the Totally Entwined Group.  Also available from Amazon and Barnes & Noble. Click here for an excerpt.
Theatre majors at Yale Drama School, Gabrielle LaCroix and her best friend, Paul Wilkins, play an ongoing game of 'improv chicken.' The object is to rattle the other so much they break out of character.
Their friend Natalie invites the pair to NYC for a sexy Halloween party. Since the two are actors, once in costume, they're different people. Not Gabrielle and Paul—but the rakish 'Mississippi Gambler' Colonel Bartholomew W. Davis and the sexy 'Bourbon Street Madam' Lady Tiffany.
What's the story with The Colonel's seductive ways? Is this another round of chicken? Or is Paul actually trying to get Gabrielle into bed? And why does she suddenly find him irresistible? It doesn't matter! He's your friend! You can't!
Add a Catwoman on the prowl and three naughty witches. Stir the cauldron and cast a spell. 'Double, double, call me honey, lick my c___, and f___ my c____!'
Could it all be a trick that leads to a romantic treat?
Novella: 24,500