Now available from the Totally Entwined Group,
Amazon and Barnes & Noble. Click here for an excerpt.
A brilliant Native American archaeology student and her Brit 'bad boy' professor find the key to love, hot sex and…what? A lost civilization?
Cocheta 'Cat' White Eagle is a Native American archaeology grad student on a mission to prove the existence of her ancestral Lost Tribe. A vision tells her it's somewhere high in the treacherous mountains of Sedona. The only problem is she's afraid of heights! Trying to conquer her fear through pole dancing—of course—she attracts the attention of a bad boy Brit. He's exciting, brilliant and sexy but totally off-limits. He's her new professor, a hound, and if he recognizes her as the girl behind the mask of 'The Contessa', her career will be over before it begins.
Colin Tucker is a drop-dead-gorgeous Londoner who is rocketing to the top of his field. Alas, the sandy-haired, blue-eyed wunderkind has a weakness for sexy women—including the French Ambassador's daughter, no less. Banished to the Colonies, he finds himself torn between the exotic stripper and his brilliant student. After being put to a sexy test, he gives his heart to Cat, his student. He pledges to help her in her search, they join forces and live hap—
But wait! Smugglers, deception and danger… Oh my! Colin breaks up with Cat to keep her safe, gets arrested for stealing artifacts and helps the thieves trying to thwart her quest.
Is that really how to win the girl?
Novel: 78,500 words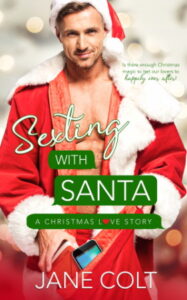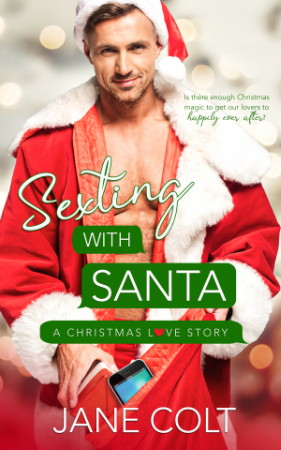 Available at firstforromance.com
Amazon and Barnes and Noble. Click here for an excerpt.
An overheard secret Christmas fantasy by the wrong–or is it the right–guy? An ex-husband who swears he's changed. What's a girl to do?
Suffering from post-divorce doldrums, third grade teacher Sasha West is dragged to San Francisco by her BFF for a girls' weekend to boost her spirits. Literally pushed into a sex toy shop where "naughty girls" tell a hot Santa their sexy Christmas Wish, she describes in tantalizing detail her fantasy featuring the school's Adonis-like Phys Ed teacher, former pro quarterback Rick Hanschiffern. Sasha doesn't realize, however, that she's sitting on the lap of the star of her lusty dreams! Rick has been secretly in love with Sasha since he first met her and hopes he now has a chance. The challenge. How to get her to see him as more than a jock, while fueling her fantasies—but make sure she doesn't find out he was Santa? But wait! Sasha's ex-husband shows up and swears he's a changed man. Is it a Christmas miracle or too good to be true? Which pair of lovers will Christmas magic get to 'happily ever after'?
Novel: 62,500 words

A "Sexy Snax" from the Totally Entwined Group. Also available from Amazon and Barnes & Noble. Click here for an excerpt.
Theatre majors at Yale Drama School, Gabrielle LaCroix and her best friend, Paul Wilkins, play an ongoing game of 'improv chicken.' The object is to rattle the other so much they break out of character.
Their friend Natalie invites the pair to NYC for a sexy Halloween party. Since the two are actors, once in costume, they're different people. Not Gabrielle and Paul—but the rakish 'Mississippi Gambler' Colonel Bartholomew W. Davis and the sexy 'Bourbon Street Madam' Lady Tiffany.
What's the story with The Colonel's seductive ways? Is this another round of chicken? Or is Paul actually trying to get Gabrielle into bed? And why does she suddenly find him irresistible? It doesn't matter! He's your friend! You can't!
Add a Catwoman on the prowl and three naughty witches. Stir the cauldron and cast a spell. 'Double, double, call me honey, lick my c___, and f___ my c____!'
Could it all be a trick that leads to a romantic treat?
Novella: 24,500
Fireworks. Love. Heartbreak. Love. Fireworks.
What a difference a year makes!
Anne meets Mark on the 4th of July, but the following year receives a shocking text, not the proposal she'd hoped for. Reeling from the heartbreak, she's taken under the wing of her friends Heather and Kaitlyn. It wasn't the love she'd expected, but it was the love she needed and the love she deserved.
Short story: 10,000 words. Click for sample
Resolved to learn to swim before she turns 35, Linzey gets help from a hot (but much younger!) lifeguard. Matt is the heartthrob of every sweet young thing on the beach—and has the reputation to match. Linzey knows the chiseled, red trunked Adonis is just a fantasy for her. But what will happen when the two of them are far offshore, tossed around by the waves (sans suits!) and Linzey is terrified the two of them are about to drown?
Short story: 10,000 words.
Novel: 60,000 words. CLICK FOR SAMPLE
Available from: Amazon,
Champagne, hot best man, and a sex tape? OH NO!
What if a shy and reserved bridesmaid discovers that Sin City 'wedding sex' turns her into a 'wanton slutbunny'! Shocked, Emily runs away, leaving Kirk heartbroken. Five years later, the couple gets a second chance working on a project Emily heads up. Emily falls for Kirk, but, misreading something, she feels betrayed by him and runs again! And as if that's not bad enough, someone sabotages the project. Learning that Emily's career is about to crash and burn, Kirk is desperate to help. But can he do enough to save her job? And even if he can, will she let him explain why he broke his promise and give him a chance to win her back?